About Ridgecroft Preschool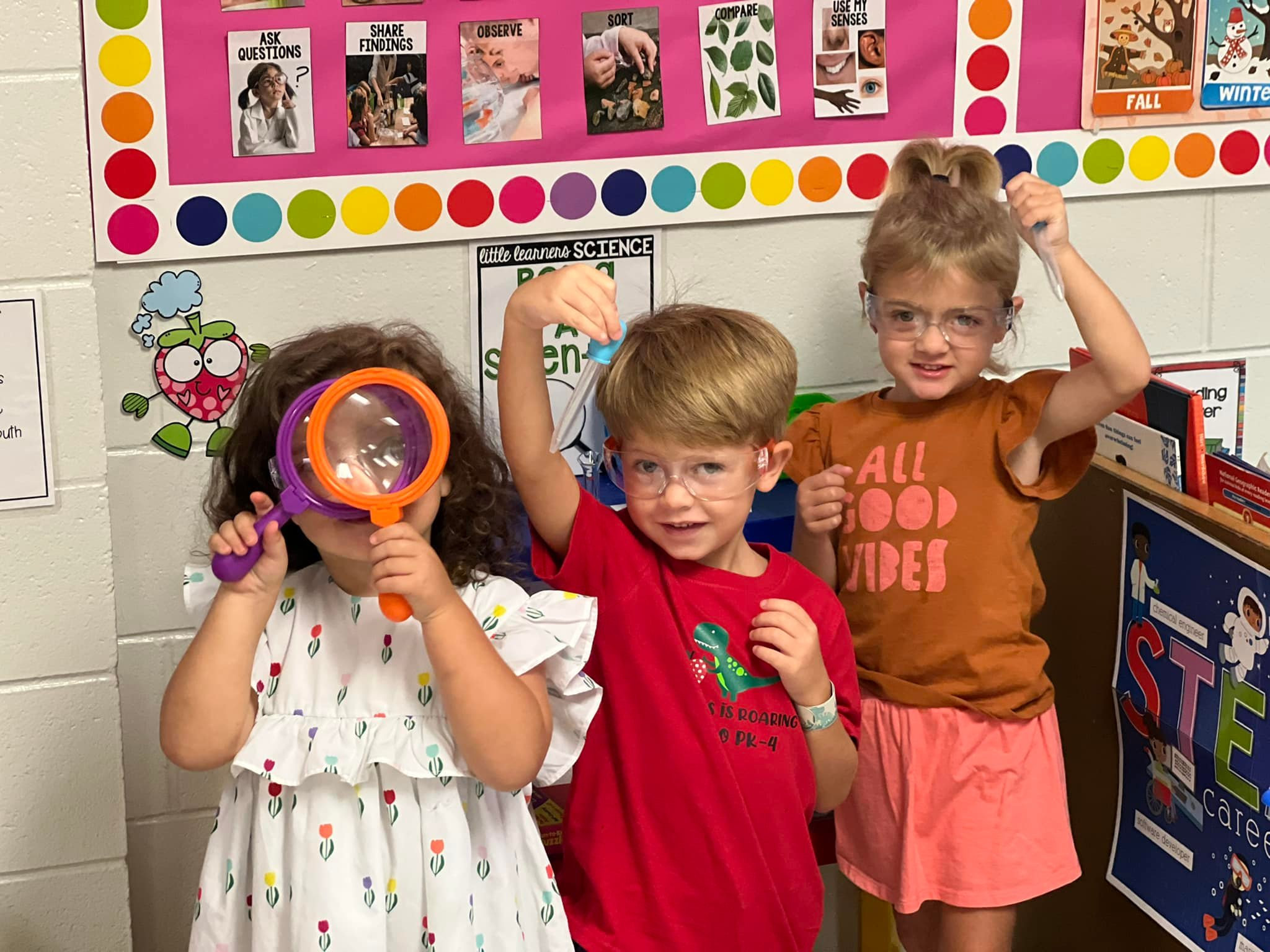 State licensed and accredited by AdvancED (formerly the Southern Association of Colleges and Schools), the Ridgecroft Preschool program provides children ages three and four with a safe, nurturing, and secure environment in which to learn. A qualified staff of early childhood educators transforms each classroom into a place for children to learn and grow at their own pace. A developmentally appropriate, center-based curriculum provides quality experiences that incorporate "hands-on" active and sensory learning that focuses on gross motor skills, social and play skills, music, art, math, writing, and emotional development. Play-based learning encourages students to become explorers, discoverers, problem solvers, and inventors, self-concepts that form the foundation for future school success.
Hours of Operation
Ridgecroft preschool students can stay at preschool from 7:30AM - 6:00PM. However, there is an additional fee for after school care. There is also a fee ($6.00 per minute) for students who are not picked up by 6:00PM or the announced pick-up time on early release days.
Under normal operating hours preschool students can begin arriving at 7:30am. With a 1-hour fog delay preschool students can begin arriving at 8:30am and with a 2-hour delay preschool students can begin arriving at 9:30am.
Why Ridgecroft Preschool?
Outdoor area for riding bikes, playing at the sand and water table, climbing, sliding and running
Approved curriculum that focuses on children learning to develop healthy relationships with their class mates
Hands-on, active learning experiences throughout the day in the indoor and outdoor spaces
Learning centers in each classroom (art, blocks, manipulatives, dramatic play, music, science, library)
Enrichment Activities at Ridgecroft Preschool
Weekly music classes filled with singing, dancing and instruments
Vists to the Jerrie Jenkins Taylor Library at Ridgecroft School with an introduction on how to locate/check out books
Parent and family volunteers visit the preschool sharing their knowledge about jobs, culture and traditions
At least 2 field trips per year (ex. pumpkin patch, zoo, water park, splash pad)
Open Door Policy at Ridgecroft Preschool
Every Ridgecroft Preschool family that comes through our doors is welcomed and respected for the unique qualities they bring to the table. We strongly encourage and welcome parent and family volunteers to participate in any activities within the preschool. This creates unique and hands-on learning experiences for our students. In the past, we have had volunteers come read to our students, make special crafts/snacks, conduct science experiments, share about their career and more. Our teachers, staff and parents also form relationships that allow for daily communication.
Preschool Parent Testimonials
"We LOVE Ridgecroft Pre-School! It has been wonderful for my son (as well as my daughter a few years ago). Enrolling our kids here was one of the best decisions we could make regarding their early learning years. They have learned so much and absolutely love coming to school every day. Not only do the kids learn more than you could ever imagine, they are also in a very safe and loving environment. The PreK staff is very professional and they all go above and beyond to make each child feel special and unique, as well as provide a fun learning experience. I would highly recommend the Ridgecroft Pre-School to anyone."
"Thank you parents for raising such sweet, kind, caring children! The twins were greeted with a group hug followed by individual hugs... This Momma had a good happy cry on the way to work this morning. My children will never go anywhere else! Thank you Mrs. Amanda for being so welcoming and having the girls cubbies set up! I love this school and its sweet families."
"We love the Ridgecroft Preschool! The teachers are loving, kind and so creative. They work really hard to plan fun activities that support learning, and they also encourage the children to develop their social skills through play. Additionally, their curriculum is enriched through weekly visits from the music teacher and librarian. We have been so pleased with what our children have learned and how they have grown since going through the program. We are truly grateful for the foundation that Ridgecroft Preschool gave our children, and we are so excited to be a part of the wonderful Ridgecroft family."
Eligibility at Ridgecroft Preschool
Children must be three years of age by August 31 to enter that year's Pre-K 3 class.
Children must be four years of age by August 31 to enter that year's Pre-K 4 class.
Children must be potty-trained.
Children must be able to verbally express their wants and needs.
Interested in enrolling your child at Ridgecroft Preschool?
Please contact our Main Office
at (252) 332-2964